The economic impact of Covid-19 is significant across the globe.  The world has witnessed a huge economic shock after decades of stability, and, ordinary people are the most affected ones. In these days of financial instability, where daily necessities of life are hardly met; thinking of spending on luxury items might be the last thing on your mind.
"A friend in need is a friend indeed"… there was a time when we were taught about sharing. We happily shared with our friends and relatives. But today, we started to opt for the concept of distancing. In these hard times, RENTOLÉ comes with a vision of Share & Care. We believe that Reusability is not only good for the environment but also for the human beings living within it. Therefore, we encourage people to convert their unused items into profitable businesses. Rentolé is a WIN-WIN for all parties. The owner earns money and the renter saves money. And for the potential buyers, it gives them the surety that they are buying the right item.
"Why buy it when you can Rent It? " [Neasa Macerlean]
We are moving into an age of renting from the one of buying. RENTOLÉ is not just a classified website; it is a GREEN IDEA that pertains to Sustainability, Re-usability, and the culture of Sharing and Caring.
Our vision is to share and care with those who need them. Starting with small things like books, pens, hair accessories, clothes to big items like cameras, juicers, choppers, and even the biggest ones like furniture, generators, AC, cars, property, and machinery…. You are just a few steps away to rent whatever you need even if you can afford it. Similarly, you can place your spare items on rent and start earning money from the comfort of your home.
"Let's reuse whatever we have now, stop making more of it, take what we gather, and make – whether it's car parts, computer cases, anything that we can use"… [Ian Somerhalder]
How does RENTOLÉ Work?
Why spend money on a thing that you need once or not too often? Now you can save money by borrowing items and earning money by giving your spare items on rent. Rentolé is a one-Stop Portal that acts as a central platform for bringing owners and renters to one point whereby all handling is maintained either by you or through our experienced team.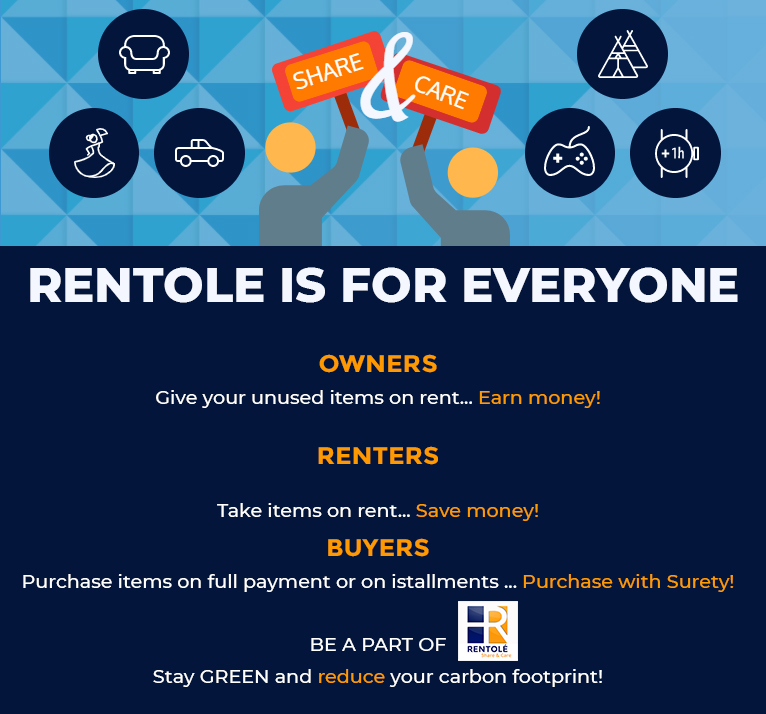 Rentolé facilitates its users by offering them 3-way services via a single account.
Owners: Owners are the people who place their items on rent
Renters: Renters are the people who get items on rent
Buyers: Buyers are the people who decide to go one step forward and want to buy the item that they rented.
Facilitators: Facilitators are the Rentolé employees who handle all the dealings and provide meditation services if required.
Adding Items for Rent on RENTOLÉ:
Whether it's big or small, cheap or expensive, if you have any unused items then you can place them on rent. Just enter your item name and few details and you are ready to go. You will start getting responses in No Time!
Renting Items on RENTOLÉ:
There is nothing better than enjoying your long-dreamed items at a negligible cost. If you need an item for a day, week or month then it does not worth spending a huge amount on it. For example, you need a formal dress for the wedding of a close relative; if you know that you won't be wearing it again then certainly it is better to Rent than to Buy.
On Rentole there are 20 things you can rent out to make money online including wedding dresses, furniture, home decor, computer, mobiles, women's fashion accessories, and more.
Buying Items with RENTOLÉ:
Rentolé also provides the option to buy rented products. If you like the product and want to buy it then avail our option of rent to buy. The items can be bought on full payment as well as in installments.
How Do Renters Connect with Owners on RENTOLÉ?
Rentolé provides a safe and secure communication system between owners and renters.  Not only we allow direct communication between both parties but also allow users to manage the whole rental process via our experienced team of rent facilitators.
Is RENTOLÉ Secure?
Keeping in mind the security of items, many people are reluctant to rent or give their items on rent. Rentolé envisions Share & Care by ensuring that whatever is shared is also taken care of. Use  Rentolé provided sample agreements to document your rental transactions properly. Also to get better handling of your products and more security through experienced business professionals, you can use Rentolé's Premium Facilitation Services against nominal costs. There are two kinds of Premium Facilitation options available right now:
Partial Facilitation where the product is with you and its rent requests and documentation is handled by Rentolé's recommended Facilitators.
Full Facilitation where your rental item is hosted with the facilitator. That facilitator performs all rental handling without your worries of handling products for giving and taking back. This way you can maximize rental earnings while you are at work. You will be able to view all the rent requests and earnings through the Rentolé dashboard which provides transparency and peace of mind.
We are open to everyone, everywhere. So stop thinking and start renting with Rentole.
 "We are not to throw away those things which can benefit our neighbor. Goods are called good because they can be used for good: they are instruments for good, in the hands of those who use them properly "…. [Clement of Alexandria]